Services included in our inspections of the following areas:
Chimney – Visual condition of the flue, chimney cap presents, condition of the crown and mortar joints, foundation
Roofing – Condition of covering, flashing, boot flanges, ventilation, number of layers
Attics – Insulation, ventilation, infestation, structural conditions, current water infiltration
Siding/windows/doors – We report on hazardous defects, operation and defects on the exterior entry doors
Vegetation and grading – Bushes, trees and ground cover too close the structure, poor grading issues in the terrain.
Driveways and walks – Identifying conditions and tripping hazards
Decks and patios – Railings, surfaces, structures, stairways and pitch and condition of patios
All operating utilities – Primary electrical devices and systems, Gas systems from distribution to hazards, visual inspections of active tanks (oil and propane), presents of alarm or sprinkler systems, location of key shut off devices
Interior evaluation – All accessible walls and floors for structural defects, water stains evaluated interior doors and more
Plumbing – Operation of all accessible fixtures, waste lines inspected for leaks, proper venting, Hot water heating system evaluated, condition of water service main and visible supply lines through out the house
HVAC systems – Heating and air conditioning systems evaluated, distribution systems checked (weather permitting)
Insulation – Presents and condition of current insulation of the thermal envelope, Pipe insulation in attic and crawlspaces
Appliances – We operate all large appliances that are staying with the house. Refrigerators, Ranges, Cooktops, Ovens, Microwaves, Washer and Dryers (sorry no warranties)
Basement and or Crawlspaces – Water infiltration, visual presents of fungus', visual presents of products known to contain asbestos, Insulation and condition of the foundation
Some of our arsenal of tools include:
Moisture meters, Carbon Monoxide Meters, Gas Leak detectors, Analog 120-volt GFCI Receptacle tester, Drones and More….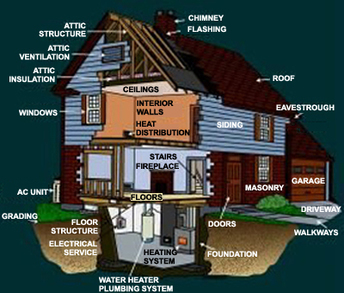 Please remember that we can only inspect what can be seen at the time of the inspection! If there are extreme cluttered conditions that will prohibit a proper inspection, consult with your agent to arrange the buyer to move the clutter in key areas. If we can't see it we can't report on it!
At New Home Inspectors, we know that behind every home or property purchase is a buyer who needs to make an informed decision before investing their hard-earned money. We take pride in every inspection and ensure that our reports are both comprehensive and easy to understand. If there is an attic opening we are in it, access to the crawlspace we are crawling and a safe walk-able roof we are on it! If we can touch it we inspect it, if we can't we fly our drones over it!!
All inspections follow NYS home inspection standards of practice and NYS home inspectors
Code of ethics as well as Inter-Nachi Standards of Practice and code of ethics.